Your FileMaker Server loses power. All your files have crashed. What do you do now? The safest practice is to go to a backup. Sure, this sounds like a daunting task, but it is surprisingly manageable. The best part is that you won't lose any sleep worrying about how long your baling wire and bubble gum files will last.
There are really two ways to accomplish this task. The first way is to use a brute force technique, basically importing all the data from the damaged file. The second, a much more brain intensive process, is surgically importing only the records you need, updating those which have changed and deleting those which don't exist.
Each one of these techniques requires that you have a viable backup candidate to work with. If you don't have backups, you're pretty much out of luck and might want to read one of our previous articles on dealing with damaged files.
Since the Brute Force technique requires no real setup, I'm going to write about that in this post and will go into detail about a more selective approach in a later post.
##Setup
The first step of this technique is to open your backup and use the File -> Save A Copy As -> Clone command like so:

By performing this action you will get a copy of the database structure, scripts and all the other FileMaker goodness without any of those annoying records. Who needs records in a database anyway? They just get in the way.
>Note: Make sure that you perform this command on the backup that you would like to bring up to a production level. If you do it on the damaged file you will likely propagate the corruption we are attempting to fight
The next step of the process is to reimport all the data from the damaged file. This sounds simple enough, but it is indeed quite tedious and can be very time consuming. You must import all the data for all the tables in the file you are fixing. If you have a lot of records, calcs and/or indices in the table this could definitely take a long, long time.
##Importing Data
I would start off by going through all the tables in your file and writing down the name of a layout which is tied to one table occurrence of each table. The reason for this is that when importing records, the table occurrences that you can import to are restricted to those which are related to the current layout. Having your list prepared will help you not only to ensure that you import data for all the tables you need, but also make it easier to import the correct data.
Now that you have your list, or at least know which table occurrences you need to import:
1. Open your damaged file and go to the your first layout
1. Select the `Records -> Show All Records` command
1. Open the new clone file you just created
1. Select the `File -> Import Records -> File..` command
1. Select the damaged file to import
> Note: It's best to keep all files that you are working with — the clone, the damaged copy and the backup — on the computer that you are going to be doing the importing on. This will prevent further corruption of the data because of any network problems that might occur. Also, I would pick the biggest, baddest computer you have to perform this process as it is very hardware intensive and you will be able to complete the process much more quickly then on a pokey box.
The reason we are using the Show All Records command in the damaged file before importing is because FileMaker only imports records that are in the current found set of the file which is being imported (if it is open). So if for some reason you only had 10 records in your found set in the damaged file, when you imported there would be only 10 records imported. You more than likely already have all records showing but it never hurts to be sure.
You should now be looking at a dialog something like this: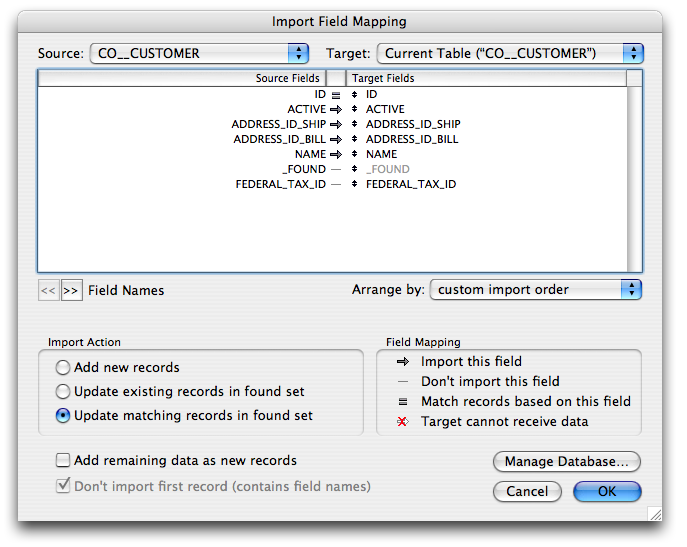 You'll be seeing this dialog a lot, depending on how many tables you have in your file, so get very familiar with it. There are a couple of key componets to it.
* **Source:** name of the table occurrence of the file you are importing from
* **Target:** name of the table occurrence that you will be importing to
* **Arrange By**: pop-up displaying the different ways to match fields in the source table to the fields in the target table
* **Import Action**: Settings that determine how to treat the records as they are imported
* **Field Mapping**: legend to show what the different icons between the source and target fields mean
I know this is a lot to digest if you haven't seen it before, but for this article we won't go too far in-depth with each of the settings so as not to add more fuel to the fire.
## What to Do From Here
Now that you have made it this far we just need to pick the settings that are appropriate for this type of import. The first thing to select is the Source and Target tables. Since you have your list and have switched to the correct layout before coming to this dialog, the table occurrence in the `Target` portion of the dialog should read to be the one you expected on the list. If not, just hop out and change to the correct layout. What you want to do now is to select the same exact table occurrence name in the `Source` section. Once this is complete you should be staring at identical field lists in the middle portion of the dialog.
Next, select Matching Names from the Arrange By option. Now all your fields should be lined up nicely with identical names on both sides.
Finally, select Add New Records under Import Action, and then click Import.
You have one last obstacle to overcome before you actually begin importing. The auto-enter/repeating fields dialog.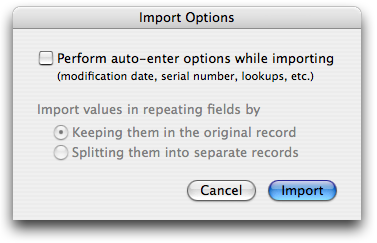 Make sure your dialog looks exactly like mine. You don't want to perform auto-enter operations because the odds are it will create bogus data and cause havoc with your database for many different reasons. Also, you don't want your repeating fields being split up into a bunch of new records. If you really do… save that for after you get your file back up and running. Trust me this will take long enough.
Once you are satisfied, just click Import and you are off to the races. Actually you are probably watching a progress bar crawl across the screen but you get the drift.
You have one more step before you are done with this table
## Serial Numbers
Once all the data has been imported into your table, the last step in the process is to update the auto-enter fields in your database that are based upon a serial number. To do this we have to hop back in the damaged file, open up `File -> Manage -> Database`, find all the fields that have the auto-enter serial numbers, open up the field definition, and write down the `next value` for the serial number and the field name. (Phew!)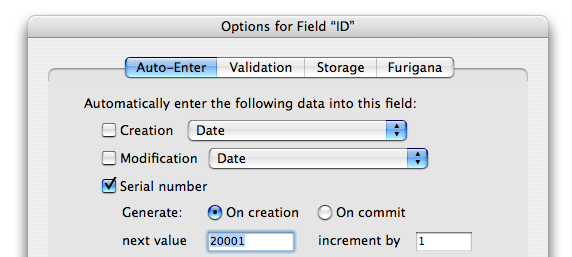 Now switch back over to the clone you just imported the data into and update the next value field in all the fields you found. This step is very import. Don't leave it out otherwise you could end up with two invoices with an id of 1000, and then you are in deep trouble. All sorts of relationships will have problems.
## Reuse, Recycle, Repeat
Now that you have gone through this process with your first table… yup… you guessed it. You have to go through each and every table on the list.
>Note: I said each *table*. You don't have to do each *table occurrence*. Just make sure import to one occurrence for each real table in the Tables tab of the Manage Database window. Some tables may have many occurrences.
As I previously stated, this can be quite time consuming and tedious depending on the amount of records, fields and other variables. It will get the job done but is not always the option for bigger databases. Next, I will post a much more surgical technique that is designed to get your databases up and running as quick as possible.