Easily create high-quality barcodes in FileMaker Pro with no funky fonts.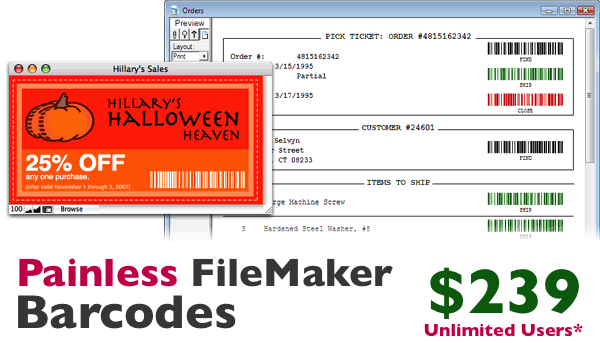 About 6Barcode
6Barcode is designed from the ground up to be easy. It's easy to buy, easy to install, easy to use, and easy to deploy. When you need to produce high-quality bar codes in your FileMaker Pro database, there's no better tool for the job.
One Function Easy
When we say it's easy to use, we're not joking. In fact, the comprehensive manual is only one page. Usually you just need to call one simple function:
sfrbc_Barcode ( My Field )

What could be easier than that? The comprehensive list of options stay out of the way until you need them. But don't worry — if you really need red bars on a clear background, we've got you covered.
No Fonts, No Fuss
Most barcode solutions for FileMaker rely on wacky fonts that must be installed on every computer. That sounds like a nuisance to us so we made 6Barcode completely self contained. It produces 100% standard high resolution, ultra-efficient PNG graphics that can even be viewed on computers that don't have the plug-in installed.
Installation Nirvana
Since 6Barcode is a stand-alone plug-in with no external parts, you can take advantage of FileMaker Server to deploy it. With one script step in your database, it will automatically install itself on each computer that connects to the server. In fact, every aspect of 6Barcode, from its all-in-one nature to its no-nonsense licensing was designed specifically to make installation and maintenance a breeze. After all, you have bigger things to worry about than installing plug-ins and fiddling with registration codes.
License to Own
We want to make your life easier every way we can. That's why 6Barcode is sold with our exclusive No-Nonsense Server License. Pay a low flat price, and you can install the plug-in on your FileMaker Server. It can then be used by any number of clients accessing databases on that server. If you have 25, 100 or 250 users, you still need just one license. If you have more than one server, you'll need a license for each server that hosts databases that require the plug-in.
Of course if your needs are more modest, you can opt for a single-user license instead.
* The $239 Server License covers unlimited users and databases on one FIleMaker Server. If you have multiple servers hosting databases that generate barcodes, you'll need to buy more than one license.